AMTRAN News
We can tell you when your bus will be at your stop on your phone, smart phone or on the web.
myStop by Phone
Just dial 944-1200 and punch in your bus stop number. The computer will tell you when the next bus will arrive in real time. To see how easy it is, click the video on the right. (Every AMTRAN bus stop has stop number on the stop sign.)
myStop by QR Code
All AMTRAN bus stops have a Quick Response (QR) code for your smart phone posted on the myStop sign. It will tell you when the next bus will arrive in real time. (QR code readers are usually available as a free download at your App Store.)
myStop on the Web
Go to myStop on the top menu above. Then click your route and find your stop on the map. It will tell you when the next bus will arrive in real time.
---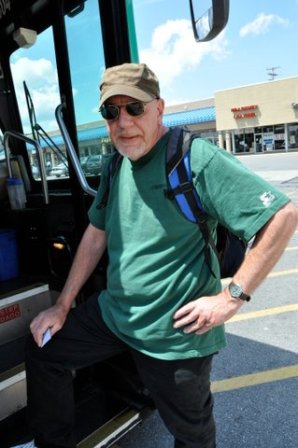 "I can't say that AMTRAN buses have directly saved my life, but I can tell you that I would not be able to live without them. Options are not something I have a lot of. Being a man of little means, I have no car. I rely completely on the bus service to get around. I suffer from a respiratory disability that makes the physical act of walking down the street a challenge. I depend on the bus to get me safely to the places I need to go. I ride to the hospital, my doctor's appointments, and to the grocery store. Basically, AMTRAN gets me to all the places my disability could potentially keep me from.
Without the public transportation AMTRAN provides our community I, and the many like me who are elderly, disabled, and on a fixed income would have no way to get around. I said earlier that options were not something I had a lot of, and that's true. However, the AMTRAN buses have always been one of most valuable options I - a disabled person - have had. Public transportation gives me opportunities in my community, and lets me get outside my front door."
Robert P.