View All

AMTRAN Posts
AMTRAN News
CNG buses coming to Amtran
In June, Amtran will be unveiling six brand-new, made-in-America, Compressed Natural Gas (CNG) buses. In October, there will be ten more new CNG buses arriving in Altoona.
Contractors are putting the finishing touches on the CNG fueling station and the garage modifications to be ready for delivery of the new buses.
Watch for more news here.
Faces of AMTRAN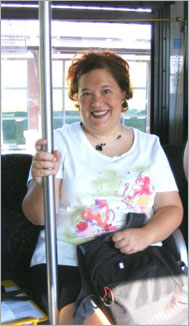 "The bus service is so important to me. I never thought I would have to ride the bus on a daily basis, but now I need it! I had driven all my life, but several years ago I became sick and am now disabled."
"Almost four years ago SKILLS helped me get my own apartment, and taught me how to ride the bus. Now, I use the public transportation system frequently to go home and get to the grocery store."
"Riding with AMTRAN the past few years has given me the confidence to go more places on my own. The friendly and caring drivers help me with any questions or concerns I have, and always find a way to help me. The bus service allows me to live a more independent life."