AMTRAN News
"Faces of AMTRAN" Photo Contest
Submit a picture of yourself (a "selfie") on the bus along with a sentence or two describing your best experience while riding AMTRAN. Submit your entry through AMTRAN's Facebook page by uploading your photo and quote.
Select photos will be posted on the web. One winner chosen at random will receive their choice of an iPad Mini or a $300 Visa Gift Card.
Contest ends February 28.
---
Rider Alerts
AMTRAN suggests that all customers sign up for Rider Alerts by clicking the link on the right of your screen. Rider Alerts enable customers to be instantly alerted by text or e-mail if there is a problem or a change to their bus routes.
"Our service is very important to our customers," says Eric Wolf, General Manager. "They rely on us to be dependable. So if there is a weather detour or a road construction delay on their route, they want to know about it. Our Rider Alert feature enables us to stay in touch and keep them up to date via text or email on the bus routes that they use."
The customers can change their Rider Alert preferences or unsubscribe at any time. They are in control
Trip Planning Through Google Maps
AMTRAN now offers transit trip planning through Google Maps™ adding to an already long list of technology applications to make it easier to ride the bus.
Just click the light blue icon above. Customers can plug in their origin, destination, and time of day to have Google Maps™ plan their bus trip for them. Their plan will include directions to the bus stop (and how long it will take to walk there), when the bus is scheduled to arrive (and how long the bus trip will take), and finally how to get from their ending bus stop to their final destination (again including how long a walk).
According to Eric Wolf, AMTRAN General Manager, "This is a simple, easy solution to customers asking 'how do I get there from here?' It works on a desktop computer, a tablet, or a smart phone. Plus it's available 24/7."
Trip planning is only the latest technological innovation for AMTRAN. For more than four years, customers have been able to get real-time bus departure times from any AMTRAN bus stop through their computer or phone plus through scan-able QR codes at every stop.
AMTRAN's tech partner is Avail Technologies in State College, PA.
---
No bus service on Sundays and on the following holidays - New Years Day, Memorial Day, Independence Day, Labor Day, Thanksgiving, and Christmas.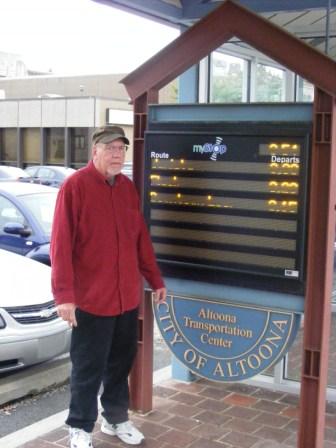 "I am sixty-two years old, and I have great difficulty walking. I don't drive because I can't afford a car. I work part-time to supplement my social security check which is not enough for me to live on. The bus service is affordable and I rely on it to get to work. No bus service would mean no work for me; which would also consequent in an inability for me to support myself."
"In addition, I use the AMTRAN buses to do my grocery shopping and to go to the doctor's office. I realize that times are hard for a lot of people in our community, but without the bus service times will get much more difficult, especially for senior citizens. Many of us have no other alternatives for transportation, and we depend on AMTRAN'S steady and constant bus routes every day. Keep AMTRAN running!"
Robert D.