View All

AMTRAN Posts
AMTRAN News
Amtran's Summer Youth Pass is back!
Ride all day on all buses for $1.00 if you're 21 or under. Just pay $1.00 as you board the bus, and ask your driver for an All Day Pass. You're all set!
Visit Urban Air, AMC 8 & 12, Juniata Spray Park, Lakemont Park, Prospect Pool, Logan Valley Mall, Logan Town Centre, and Walmart.
Offer ends August 24, 2019.
Faces of AMTRAN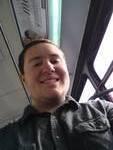 "Riding the bus is one of my favorite times of the day. It's a relaxing way to travel and I always meet someone new! Go AMTRAN!"