View All

AMTRAN Posts
AMTRAN News
Added trip from downtown to Ivyside
In response to student requests, Amtran has added a 5:20 p.m. bus connecting the Downtown Campus to the Ivyside Campus beginning Monday, November 6.
The #3 Flash will depart the downtown Transit Center at 5:20 p.m. and will stop on 15th Street at the Devorris Center at 5:21 before heading back to the Ivyside Campus.
Please note the #14 Evening Flash will start at 6:00 p.m. rather than 5:00 p.m. beginning November 6.
Faces of AMTRAN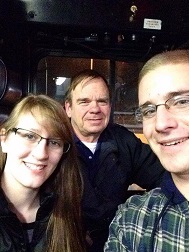 "My best experiences with AMTRAN are from the drivers themselves. Not only are they helpful and knowledgeable about their routes, but they're some of the friendliest people I get to see during my day!"