AMTRAN News
myStop app for iPhones and iPads
Amtran and their tech partner, Avail Technologies of State College, have announced a myStop app for iPhones and iPads available as a free download at the App Store.
Using the new app, customers can plan their trip through Google Maps. You can also find out when your bus will be at your stop in real time. In addition, you can set an alert to remind you when the bus will arrive.
The new smart phone app is one of many available technologies from AMTRAN that make it easier to ride the bus. Real-time bus departures are also available on our website, by phone (944-1200), or by scanning a QR code posted at every bus stop. For more info, click on the myStop icon above.
AMTRAN also offers a rider alert service to send you a text or email if your bus is detoured for weather or construction. To sign up, click on the Rider Alert button on the right.
---
"Faces of AMTRAN" Photo Contest Winner
AMTRAN recently unveiled Faces of Amtran, a customer photo contest. Customers could take a self-portrait (a selfie) on the bus and enter it along with their story about why they like AMTRAN. A winner was randomly chosen to receive a $300 Visa Gift Card.
We received more than 25 entries from younger and older customers alike. Their stories ranged from sweet and sincere to tongue-in-cheek. One young man claimed that riding AMTRAN "changed my life." Two entries said that they met their significant other on the bus. Almost everyone posted positive comments about how friendly and helpful the AMTRAN bus drivers are.
All of the photos and stories are posted on the web at Faces of Amtran.
The winner was Sierra Veloz. Her entry reads, "I ride the bus almost every day with my 3-year-old daughter and 11-month old son. I would say I have the best experience every day. I've made friends with the bus drivers. They treat me and my kids like gold, and take me exactly where I need to be!"
---
Trip Planning Through Google Maps
AMTRAN now offers transit trip planning through Google Maps™ adding to an already long list of technology applications to make it easier to ride the bus.
Just click the light blue icon above. Customers can plug in their origin, destination, and time of day to have Google Maps™ plan their bus trip for them. Their plan will include directions to the bus stop (and how long it will take to walk there), when the bus is scheduled to arrive (and how long the bus trip will take), and finally how to get from their ending bus stop to their final destination (again including how long a walk).
According to Eric Wolf, AMTRAN General Manager, "This is a simple, easy solution to customers asking 'how do I get there from here?' It works on a desktop computer, a tablet, or a smart phone. Plus it's available 24/7."
Trip planning is only the latest technological innovation for AMTRAN. For more than four years, customers have been able to get real-time bus departure times from any AMTRAN bus stop through their computer or phone plus through scan-able QR codes at every stop.
AMTRAN's tech partner is Avail Technologies in State College, PA.
---
No bus service on Sundays and on the following holidays - New Years Day, Memorial Day, Independence Day, Labor Day, Thanksgiving, and Christmas.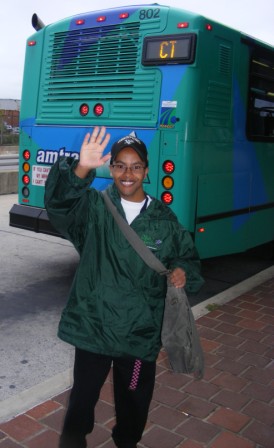 Abel is a frequent passenger on the AMTRAN buses. Abel is twenty-four years old, grew up in Altoona, and is living with Downs Syndrome. Five days out of the week he can often be found hopping on and off the buses and chatting with the divers he calls his friends.
Abel has ridden the buses to and from the Olive Garden (where he works) Monday through Friday for the past two years. He starts his commute by jumping on the Fairview bus and taking it to the Transit Center. He then transfers to the Pleasant Valley that delivers him safely to the Olive Garden. After work he reverses his route to get home.
He is well known by his regular drivers who make sure he gets to work and back home without a hitch. Because his parents work during the day, Abel would be unable to maintain successful and independent employment without the reliable and safe services provided by AMTRAN.
Abel K.