View All

Amtran Facebook Posts
Making it safe to ride the bus!
For info on what Amtran is doing to keep you safe on the bus as the pandemic winds down, and what YOU can do to stay safe, click this link.
Crowded buses
#1 Crosstown - Transit Center to and from Walmart (all trips)
#2 East End (2:00 and 3:00 p.m. Trips)
#5 Pleasant Valley - Transit Center to and from Walmart (all trips)
#6 Greenwood (1:30 and 2:30 p.m. trips)
Faces of Amtran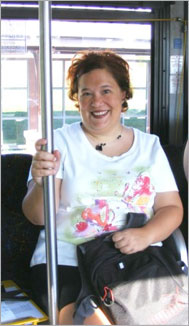 "The bus service is so important to me. I never thought I would have to ride the bus on a daily basis, but now I need it! I had driven all my life, but several years ago I became sick and am now disabled."
"Almost four years ago SKILLS helped me get my own apartment, and taught me how to ride the bus. Now, I use the public transportation system frequently to go home and get to the grocery store."
"Riding with AMTRAN the past few years has given me the confidence to go more places on my own. The friendly and caring drivers help me with any questions or concerns I have, and always find a way to help me. The bus service allows me to live a more independent life."