View All

AMTRAN Posts
AMTRAN News
Specific Trip Purpose

Bus riders must have a specific destination to ride the bus for Life Sustaining purposes as defined by Governor Tom Wolf's April 1 Stay-At-Home order.
If you do not havea Life Sustaining trip purpose, then you need to stay at home.
If you stay at home, you will help stop the spread of COVID-19 in our community.
Faces of AMTRAN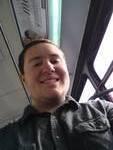 "Riding the bus is one of my favorite times of the day. It's a relaxing way to travel and I always meet someone new! Go AMTRAN!"